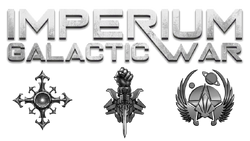 Imperium: Galactic War is a war based strategy game taking place in the fictional Maelstrom Galaxy, where three factions, The Intergalactic Alliance, The Sovereignty, and the Tyrannar Empire, battle each other for supremacy. However, who will win in the face of Maelstrom's ultimate force, the Imperium? Selecting a faction, and fighting for either peace and prosperity, profit and chaos, or conquest and glory, may determine your ultimate fate in this vast, cold universe.
The game features live PvP interactions and battles, running alongside a story mode and role-playing dynamic. Creating fleets, and upgrading their very own starbase.
The game is currently unavailable, however, it is set to relaunch sometime in Spring 2018. To register for the beta, please click here.
Please join the official Facebook group for this game to help make the launch date sooner!